Weddings Live - Bespoke Wedding Videography:
Scottish Wedding Award - Glasgow & The South West Scotland Winners 2014 Finalist 2015
Wedding Industry experts Winner 2014/2015/2016
Winter Wedding Special Offer £450 (T&C's apply) 29th Oct 16 - 2nd April 17 - message me for more details
Beautiful Wedding Videography for your Special Day to give you moments to cherish forever!
Your Wedding is unique and unrepeatable, perhaps the most important day of your life. Weddings Live considers your day with discretion and reverence. Weddings Live will provide you with a professional shooting and editing service, we use high quality, High Definition (HD) as standard in all our films to perfectly commemorate your entire day for eternity, so that you shall remember every detail and relive your memories time after time. Creativity is only part of our business – we believe it is just as important to have outstanding customer service and caring about our clients.

Weddings Live incorporate a fresh and distinctive style, in order to capture each detail of the day, all our productions are as individual as the couple starring in them. We make wedding videos that are not only elegant as well as beautiful, they're also entertaining and contemporary. We can simply cover the Ceremony, or we can stay throughout your day. Our passion for wedding videos is reflected in everything we do for you, from our first meeting to the delivery of your unique, personally tailored DVD.
We believe we offer a unique service, we can even Broadcast your Wedding Live, we invite you to see for yourself the difference that caring professionalism can make in preserving the memories of your special day.
New: 360 video - see more reactions with this awesome feature
Slow Mo Booth - like a photobooth but better!!
Lainni & Matt - St Andrew's Kirk & Lodge on the Loch - Highlights - 5th September 2015
Lynn & Marcus - Castle Campbell, Castle Road, Dollar
Jackie & John Hamilton - Boturich Castle,Balloch
Kay & Jamie - St Ignatius,Wishaw & New Lanark Mill Hotel - Highlights - 30th May 2014
Zoe & Simon - Fernhill Hotel Green Valley Golf Academy
For more videos email us at info@weddingslive.co.uk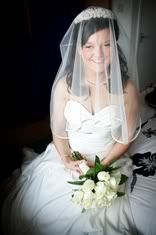 Welcome to Weddings Live. 
We cater for all your needs so you may book us for the Ceremony or we can be there throughout your big day and on into the Reception.... and beyond!
Choose Weddings Live for Quality of Product and Service as well as Price.
Please get in touch, so we may discuss your needs in full.
We look forward to chatting with you.
Telephone us on 07843 414642 or if you prefer you can email us at;
info@weddingslive.co.uk
Your Wedding Highlights can be uploaded to Vimeo for you, family & friends to view at your leisure at no additional cost.
Great for distant family and friends to be able to get involved with you big day, ask about our LIVE STREAM Services.
Packages can be individually tailored to suit everyone.
Family and friends can leave comments and 'Well Wishes'.
We are based in Central Scotland but can (and do) cover the whole of the UK (and beyond).
We at Weddings Live now do Henoke see video below (email for more details)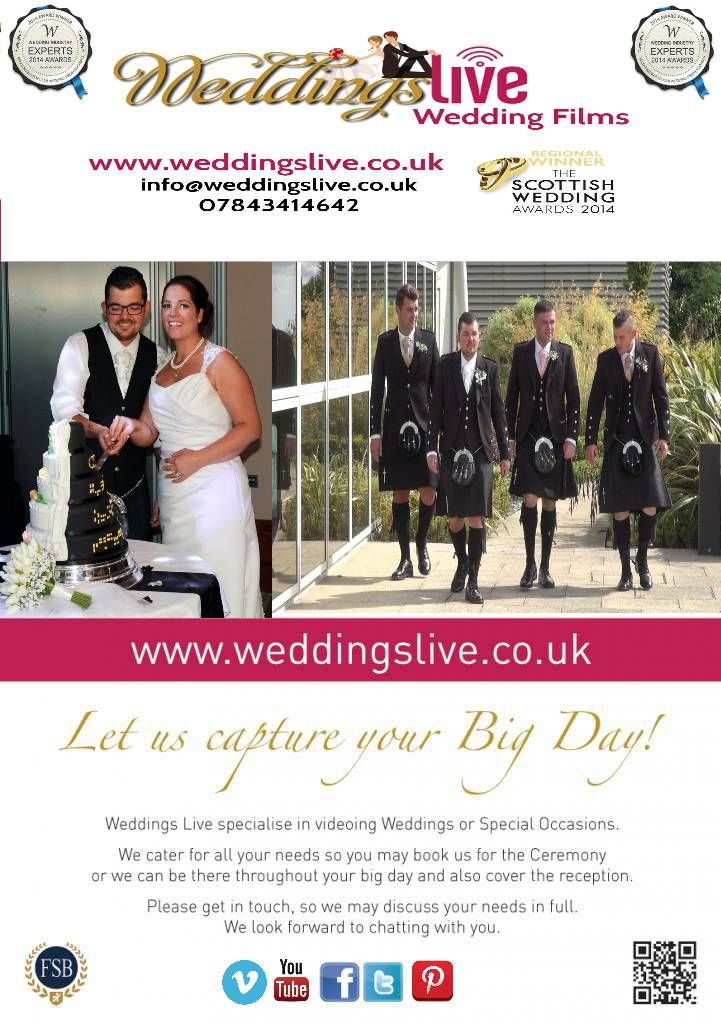 Just watched my wedding DVD.....emotional wreck here!! Love love love it! Especially seeing my 2 beautiful bridesmaids and all the personal messages. Big thank you to mark. What a great way to remember such a special day.
Cheryl Robertson Degnan


We have just watched our DVD - it's ABSOLUTELY WONDERFUL!!!! thanks so much it's perfect!! Jenna
"We would both like to take this time to thank Mark for being our videographer and doing such a fantastic job of our producing our perfectly edited version dvds. All of our guests spoke of how exceptionally friendly and welcome he made them feel whilst doing our video diary (which was brilliant). For all future events that we or our family require videography we will look no further than Mark as its not just the prices & his work that are great he is also an amiable person. Once again on behalf of all our guests and ourselves Mr & Mrs Mc Mullan a huge thank you.

Mark is a really friendly nice guy who goes the extra mile to make sure you get a truly professional service."
- Mr & Mrs McMullan